If you are looking for best exhibition stands in Bangladesh then your hunt ends here. BD Showbiz offers an extensive range of high-quality exhibition stands for your shows in Bangladesh. The alluring stand designs help you in making a massive brand impression. Whether you want an exhibition stand anywhere in the country, we cater to your specific brand needs by being your most reliable exhibition stand designer in Bangladesh.
If you have an upcoming exhibition, we can help you create concepts with our exhibition stall designers. Our in-house manufacturing, printing and execution team enables smooth execution to build your exhibition stall without hassles. Our creative exhibition stall designs add value to your experiential marketing spaces such as Exhibitions, Tradeshows, Events, Conferences and Brand Activation. The highly-qualified stand designers put their best foot forward in designing world-class exhibition stands for your show in Bangladesh. With 3D exhibition stand design facility, we help in offering best-in-class exhibition stands in Bangladesh. Our experienced project managers make sure to provide you a worthwhile and hassle-free exhibition show.

With a dedicated and full-time exhibition stall designer's team, BD Showbiz strives its best to offer innovative ideas for exhibition stalls. These experienced and highly skilled designers put their best foot forward and craft best exhibition stall designs unique to your brand. The distinct brand concepts are meticulously converted into creative stall design ideas that help your exhibition stall to become the showstopper.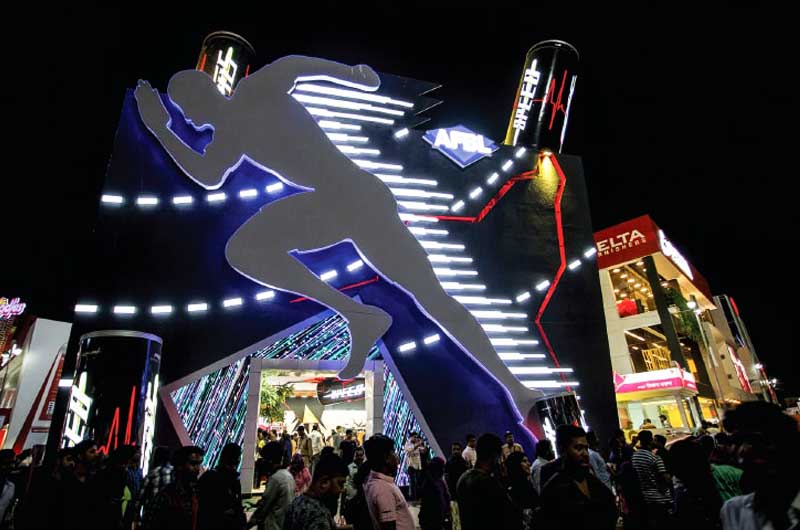 Our custom built exhibition stall designs combine the creativity of a unique space concept that is aligned to your marketing strategy with customized exhibition stall features. Our complete solutions for exhibition stalls and rich experience helps deliver the right choice of exhibition stall design at the right place, time and a competitive budget. You can be rest assured to have the best show ever. Our in-house team of exhibition stall designer understands specific needs of different industries and following a detailed briefing from you will create concepts to cater to your show objective. On finalizing a concept with you, we have a dedicated execution team that is allocated for the exhibition stall project. This team plans and executes the entire exhibition stall from design to bring it to reality in the pre-determined time frame.