Looking for rental furniture for your next special unique event in Bangladesh? BD SHOWBIZ have blossomed in event industry by affording magnificent, luxurious furniture and accessories to your special event. Keeping in mind the budgetary constraints of our clients, we offer our clients with Exhibition furniture on Rent. The furniture provided by us on rent is light in weight and compact hence, can easily be relocated and maintained. Designed as per latest market trends, this furniture attracts the visitors thus, is ideal for exhibitions.
We provide furniture rentals and accessories for corporate events, Media, exhibitions, Entertainment events, Sports events, festivals, premieres, conferences, galas, weddings, company retreats, Launching events, and everything in between. We have over 1500+ different types of Furniture items and Props in our inventory and we cater to different sectors such as Events, Weddings, Exhibitions, Shoots, Road Show etc. We also Customize and make New Furniture on rent as per the needs of our Clients. We add new furniture every week and also import the latest designs of Furniture from all over the World.

BD Event offers selective brands that grew explicitly for the occasion rental industry including the adaptable Perpetual gathering, Sofa, Chair, Bar Stool, Table, and Pamphlet Stand accumulation, and the extraordinary Components stylistic layout line. We cover a wide range from Furniture, Interiors, Air conditioners and Electronics etc to any place in India. We also welcome inquiries for Products, New & Diversified and not covered in our Range of Rentals & Services.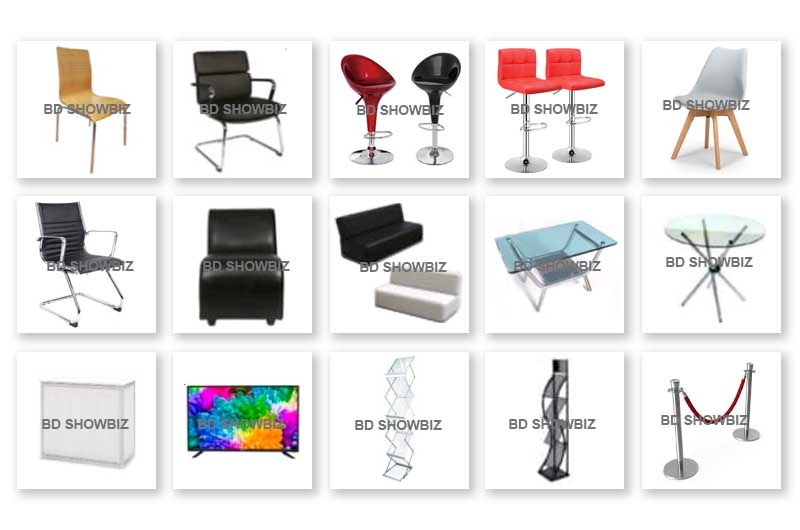 We provide total Air conditioning solution on rental basis Tent AC, Tower AC, Hall AC, Wedding Hall AC, Exhibition Hall AC, Event Hall AC & Conference Hall AC. You can hire our Exhibition Furniture, Brochure Stand, Shell Chair, Nordic Cushion Chair, Excutive Chair, Octanorm Table, Tea table, Center Table, Round Table, LCD TV, Visitor Chair, Round Table 4 seater, 2 Seater Sofa, 3 Seater Sofa, Single Seater Sofa & Bar Stool as per you need at a affordable rates. We design and Fabricate Exhibition Stall, Exhibition Booth, Stall, Corporate Stall, Exhibition 3D Stall, Modular Stall, Trade Show Stall, Kiosk & Trade Show Booth. We have a expert team to design and make Stage like Modular Stage, Aluminium Stage, Glass Stage, Board Stage, Custom Stage, Truss Stage, Concert Stage, Wedding Stage, Festival Stage, Fashion Show Stage. Over and above this we offer services to meet the requirement of every occasion or event.