DAYNAMIC WEB DESIGN PACKAGES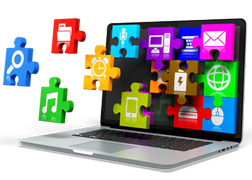 What is Dynamic website?

Dynamic will invite your site visitors to become involved and engaged. Dynamic sites on the other hand can be more expensive to develop initially, but the advantages are numerous. A dynamic website can give the website owner the ability to any update and add new content to the site without any technical skill.
ECONOMI PAC
Max Page
: 08
Max Scanned Image
: 20
Sliding picture animation
: 5 to 7
e-mail account
: Yes
Search engine submission
: Yes
Web Hosting
: 1 GB
Post Support
: Life Time
Time lines
: 2 week
Page body
: A4
Extra pages
: BDT 1500/- per
Year renewal charge
: BDT 2300/-
Graphic Design, Attractive Home page, Enquiry / Feedback Form, Logo Design, Images Gallery, Easy maintenance
View sample
SILVER PAC
Max Page
: 20
Max Scanned Image
: 50
Sliding picture animation
: 5 to 7
e-mail account
: Yes
Search engine submission
: Yes
Web Hosting
: 2 GB
Post Support
: Life Time
Time lines
: 3 week
Page body
: A5
Extra pages
: BDT 1500/- per
Year renewal charge
: BDT 3300/-
Graphic Design, Attractive Home page, Enquiry / Feedback Form, Logo Design, Images Gallery, Easy maintenance
View sample
GOLDEN PAC
Max Page
: Unlimited
Max Scanned Image
: 200
Sliding picture animation
: 100 +
e-mail account
: Yes
Search engine submission
: Yes
Web Hosting
: 2 GB
Post Support
: Life Time
Time lines
: 1 month
Page body
: A5
Extra pages
: N/A
Year renewal charge
: BDT 3500/-
Graphic Design, Attractive Home page, Enquiry / Feedback Form, Logo Design, Images Gallery, Easy maintenance
View sample