Incorporating a theme into an event is a wonderful way to engage and involve your guests or impress your clients, enhancing the whole experience for all attendees. If you're looking for a particular theme or just a few ideas on how to add a different dimension to your company party, awards dinner or any celebration, we're here to help. We offer a one-stop solution for event production from design and installation to visuals, sound, lighting, staging, scenery, print, and branding.
Our talented party planners can advise you on a myriad of fun and exciting themes to match your event expectations. If you have a theme in mind, we are able to start work on designing and planning your event immediately. However, if you are uncertain about which theme to adopt, we can also advise you and provide a range of options to suit your unique event. There are multiple themes to choose from, providing unlimited opportunities for a perfect themed event. Once you have decided on your theme and venue, sit back and relax as our party planners and technicians craft a bespoke themed event in line with your specific requirements.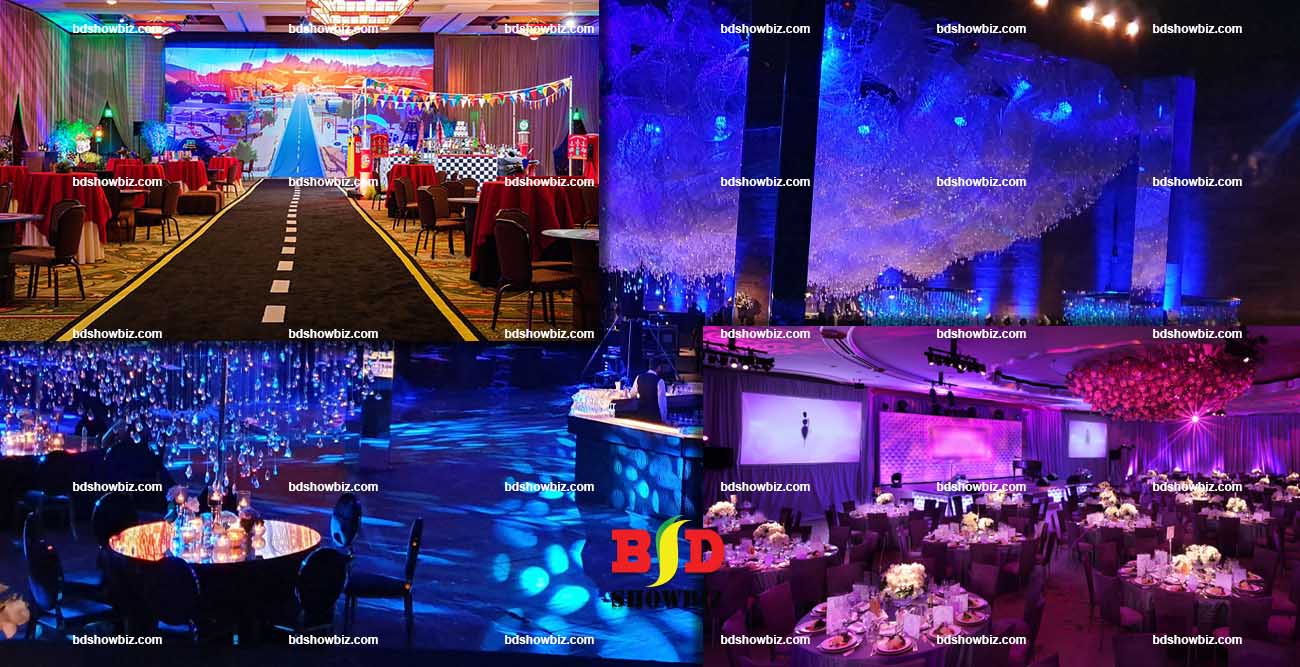 Whatever your chosen theme, BD Event Management Team will bring your themed event to life, providing a completely unique package in line with your individual requirements. We will transform any venue to match the theme of your party requirements, and also source a suitable venue if required. From start to finish, our party planners can plan, manage and create your ideal event package, provide lighting, event design and production and enhance the event according to your vision.

When planning a theme we consider every element that goes into creating your themed event, from styling to catering, event prop hire to entertainment. By centralising all of these separate factors under one event theming option, we are able to create a flow and story for your occasion with your unique. We assess the scale of your venue and create decorations and event theming around the size, functions and requirements of the space. Additionally, our event team can send you Drawings and Digital Interactive Models where you can see what your party theme will look like in your event space!

We are a leading Event Theming Company in Bangladesh. Our highly skilled team will work with your staff to ensure that we understand your objectives so that they can be achieved with maximum flair, creativity and professionalism, with the minimum of hassle.

If the theme for your event is memorable, then an excellent occasion is turned into an exceptional event. BD Showbiz has built its reputation on providing theming for events that suit the circumstance and mood perfectly. Parties, dinners, award ceremonies, special events – we have created them all and helped to fashion magical themed evenings that have lived long in the mind. If you can't see exactly what you want here, then just ask us to come up with some fresh ideas. All we need to know is what you want to achieve, the numbers and the available budget and we'll come back to you with a range of ideas for your themed event.