Our digital services and virtual event studios are ideal for the current age of virtual events. As with all BD Showbiz productions, you can be assured of the highest quality equipment, service and installation whether for a live or virtual project. Our virtual event planners are waiting for your enquiry!
Although the framework of events has changed in our present reality, our commitment to creating exceptional, unforgettable experiences has not. At BD Showbiz Events, we understand it is through innovation in how we gather that we will continue to foster support in our communities and among our constituencies. Using our decades-long expertise, our team organizes, creates, and executes world-class virtual events including government, corporate, and private events. From the conceptual beginning to hosting the event, we'll work with you to figure out the most authentic approach to tell your story. Our events are more than just virtual gatherings. As your partner, we work with you to develop a thoughtful virtual event to engage and steward your audience to achieve your goals. Using the latest technology, we develop a unique branded online experience, focusing on your mission and motivating your guests to act – whether it be through commerce, community-building or simply connections. Whether you're looking to get started on planning a virtual event or simply need some additional information on how we approach virtual events, contact us today.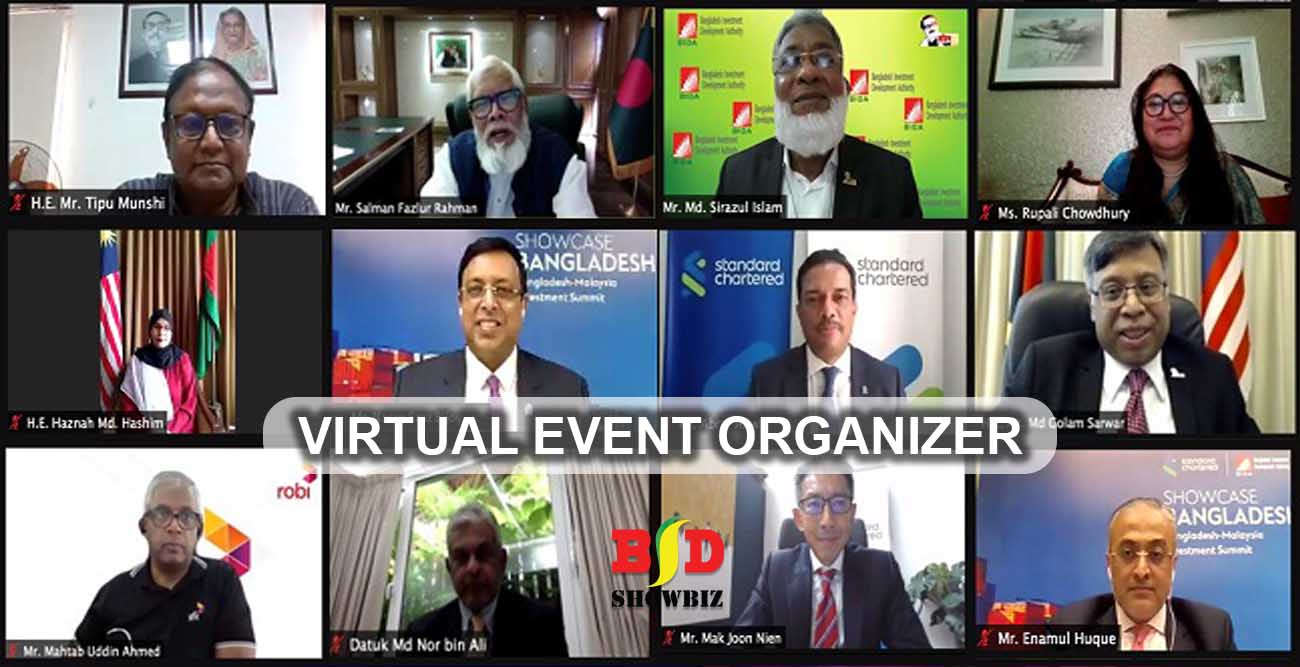 Our world-class tech team can easily take your ideas and transform them into digital masterpieces. We take the tech wizardry you'd expect from a live event and effortlessly transform this into a super-engaging online experience. If you are considering hosting an online social event, broadcasting a live event to your audience, running a webinar, hybrid conference or launch, we'll help you produce an excellent virtual event. From planning, technology, security and even post-event analytics and follow up, our end-to-end virtual event solutions will help you meet and exceed your strategic goals like a pro. We'll handle the platform, production and live moderation to ensure a seamless flow of communication between you and your team.

Virtual events are held in an online environment and can include livestreamed and pre-recorded content depending on the type of event. They can also include interactive elements to engage the audience such as live chat and networking facilities. These events can vary in size and format, anything from a small online meeting to conferences and exhibitions, and everything in between.

Businesses choose to hold virtual events for many reasons, and the Coronavirus pandemic has caused a huge influx in these types of events as it enables people to teach, learn and collaborate regardless of physical distance. They have a huge number of benefits but can also come with their own challenges - which is where virtual event companies like BD Showbiz come in.

Wherever the event takes place, the service stays the same. We will work with you with the entire design of the event from the structure to content creation and everything in between. Our aim is to develop and produce an output that appropriately delivers the clients desired message.

We're one of the most experienced virtual events companies in the industry and we are invested in creating the best event for you. And we're experts in this industry. We'll take the time and care to guide you through the whole process of event planning and production. Our consultative approach means that each event is completely bespoke and tailored to each client. No two events are the same. No event is too much for us!
Hybrid events are a combination of live and virtual events. Let's say you host a product launch and invite a small number of people to attend. You also record and live stream the launch, so people who don't show up in-person can tune in online. By facilitating live and virtual participation, you're hosting a hybrid event. Hybrid events don't have to be half-live, half-online, either. You might host a conference and only make the keynote speech available for live streaming. Keep in mind that hosting a live event, filming it, and distributing the event film afterward doesn't count as a hybrid event. To be hybrid, delegates should be able to access at least part of the event virtually as it's taking place. Hybrid events bring together the best elements of live and virtual events. Attendees can benefit from the in-person networking of a live conference or the convenience of watching your event content from home. Hybrid event planners also give delegates the choice between attending in-person or tuning in online. Flexible options stand to increase your event's overall participation. Hybrid events connect your live audience with your virtual one. By offering your meeting or conference in both formats, you give attendees the choice of how they want to experience your event.