Are you planning an event in Bangladesh?

Congratulations - You have arrived at the best event design and decoration site in Country. BD Showbiz is a popular event design and decoration company in Bangladesh since 2004. Whether you want to engage and motivate your employees or connect with your customers, we have the expertise to interpret your ideas and surpass your expectations.
We endeavour to immerse ourselves within your brand to produce a set and stage design that delivers the right tone for your live or virtual audience. We offer a full design experience and creative hire packages to suit your budget and from initial concept and planning to completion and aftercare, our team is as emotionally invested as you are in making your unique vision become a reality. We will collaborate with you every step of the way to maximise the beauty of your venue and give you and your guests a dynamic and lasting impression that will be talked about for years to come.

BD Showbiz is one of the leading bespoke events planners & venue stylist based in Bangladesh. Known for our high-quality decor and wedding/ event services, we offer full-service Event Planning + Decor Services, as well as a wide selection of luxuryDecoration Hire for all kinds of events. Serving the areas of Dhaka, Chittagong, Sylhet, Khulna, Jessore, Rajshahi and more. In our 19+ years of business, we have only ever had 5-star reviews.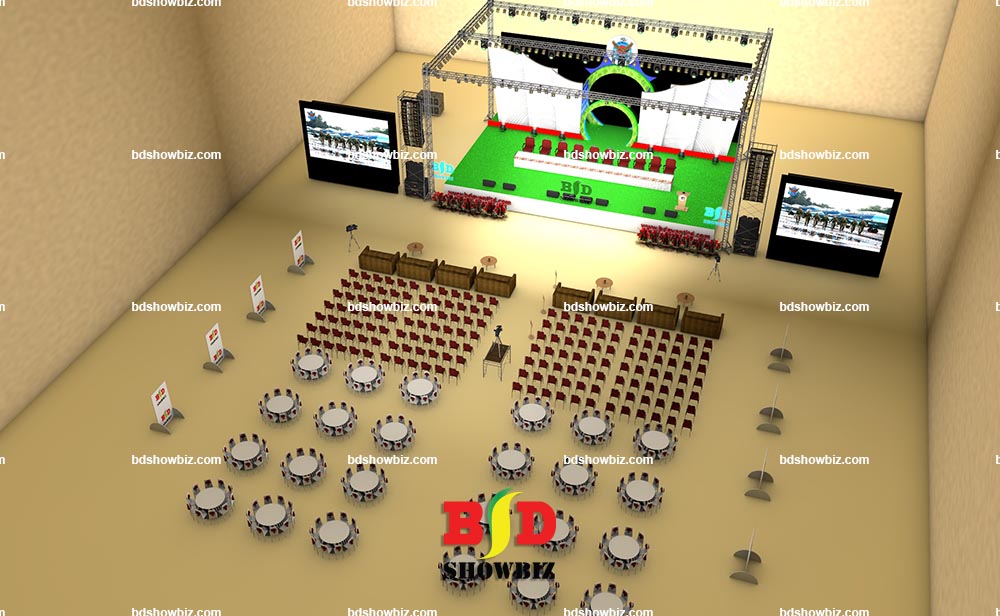 We personally visit the venue of choice before the creative process begins. We will assess the space, discuss access and logistics with the venue and ensure there is suitable power for the installed technical equipment. With all this information in hand, it's time to get creative... Using your brand guidelines and a detailed brief, our creative technicians will develop a bespoke set and stage design with integrated video technology, event lighting and sound. To help you envisage the space, we produce 3D renders and 2D detailed layouts of the stage and set to ensure everyone involved understands the desired result. As part of the design process, our team will specify every element of tech from the ground up, listing a full specification of event tech.

BD Showbiz Events & Productions are specialists in professional Event Management and event decor and styling. Our team of specialist planners and stylists work with our clients to create spectacular, one of a kind events including corporate events, weddings, private parties, day-out and more. We treat every event uniquely working closely with each client to ensure we deliver a memorable experience for you and your guests.

We believe there are no rules when it comes to event planning! It is important to us that every event we plan and produce for our clients is unique and planned to perfection. No ask is too great, we make things happen! Full service event planning is the perfect way of ensuring that your event exceeds all your expectations, giving you peace of mind that everything is being taken care of by true professionals, so you can sit back, relax and enjoy every moment. We will support you with the planning of your event exactly where you need it, from full planning through to on the day management.

Everything you need to create your event under one roof. We want to make your event planning experience easy, that's why our creative event services will help you pull everything together to make your event complete.